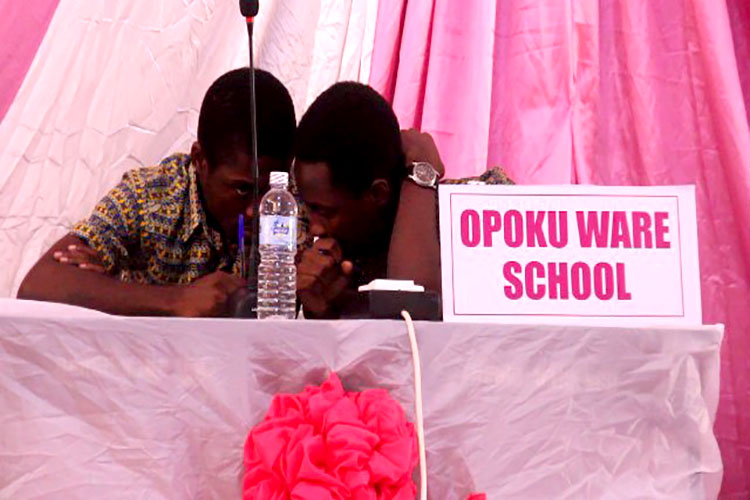 The event was organized and sponsored by the Breast Care International (BCI) and the Ashanti Regional Coordinating Council under the auspices of the Ghana Education Service. The quiz which was initiated three years ago by the Ashanti Regional Coordinating Council in collaboration with BCI has been incorporated into the activities to mark Ghana's Independence Day celebrations annually.
In 2018, twelve schools in the Kumasi metropolis competed and later integrated 16 schools in the Ashanti region. Four schools competed in the final event in this year's competition. They include; Opoku Ware, Saint Hubert, Barekese and Konadu Yiadom Senior High Schools.
Opoku Ware SHS amassed a total score of 54-points to emerge, winners, while Saint Hubert SHS placed second with 48- points. Barekese SHS and Konadu Yiadom SHS took the third and fourth positions with 40 and 33 points respectively. Students of the winning school expressed gratitude to the organisers for providing them the opportunity to learn about breast cancer.
Some of them revealed they never knew breast cancer could also affect men. "In fact, I didn't men could also get breast cancer," one of the students from Opoku Oware SHS said. Stationary certificates of participation, Breast Care International branded shirts and cash prizes were given to the schools. The main prizes are set to be presented to schools during the Independence Day parade in Kumasi by President Akufo-Addo.
The President of Breast Care International, Dr Beatrice Wiafe Addai in an interview said a cancer-free future can be achieved when students are provided with accurate information that the disease is preventable, curable and survivable. "We need to do more to curb the growing cancer cases," she stated.
Director of Jackson College of Education, Theodosia Jackson further noted that the quiz would help sharpen the academic performance among participating schools while grooming them to become breast cancer ambassadors. "It is a disease we all have to be careful," Mrs Jackson said.
She highlighted the importance to get students informed about the deadly disease to keep them safe and alive for the betterment of the country.